Product code: EL-CMBS-677-NO
Samsung Galaxy S10+ Multi Basys Car Phone Cradle
Specifically designed to work with the Samsung Galaxy S10+ Plus
Works with both 12V & 24V electrical systems
Suitable for use in both cars and trucks alike
Integrated antenna coupler for improved external antenna connectivity
Requires Multi-Basys base plate for a seamless setup
Perfectly fits your phone for a snug and secure fit
Designed with high-quality parts for longevity
High-efficiency charger integrated in the cradle
Not suitable for phones wearing a phone case - bare phone only
The CarComm Multi-Basys is a Universal Vehicle Charging Platform for mobile devices.
The system exists out of two parts, the docking station and the model specific charging cradle.
The compact size of this system makes it easy to install and it blends in with the car interior.
The unique feature of the CarComm Multi-Basys is that once installed, you can easily swap from device without installing a complete new cradle system. Just swap the model specific charging cradle for a cradle that is compatible with your new phone, slide it into the Docking Station and you are ready to go.
The device cradle can simply be removed from the vehicle docking station and stored out of sight for theft prevention.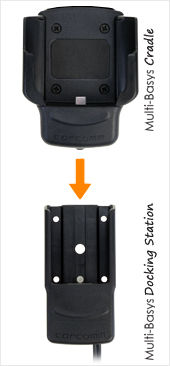 * DISCLAIMER
: Design, features and specifications subject to change without notice. Some features in videos on the Internet may not be available on all models, please contact us for the TECHNICAL SPECIFICATIONS for a complete list of features by model. This feature list is for reference only, please contact us to verify features and functionality.